The Peel Sessions
Strange Fruit, 1989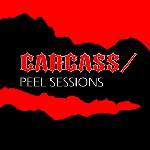 The John Peel show is a British Radio 1 show which features a wide variety of acts performing "live" renditions of their material. The CD is most notable for an interesting bass intro to Reek of Putrefaction, and an extended Slash Dementia intro. The material was recorded December 13, 1988, and was broadcast on January 2, 1989.
According to the CD sleeve, the musicians featured are:
K. Grumegargler (drums/vocals)
J. Offalmangler (bass/vocals)
W.G. Thorax Embalmer (guitar/vocals)
Track listing:
Crepitating Bowel Erosion
Slash Dementia
Cadaveric Incubator of Endo Parasites
Reek of Putrefaction
---
Back to the Carcass page...